AIR Glide – Display M – Amazing Navigation, easy retrofit
Our medium sized Display ("Size M") combines a large screen (3.7″) with a mechanical design that retrofits into panels holding old, standard 3,5″ (80mm) instruments. Display M features comprehensive and easy to use navigation, task-management, backup variometer indication, and traffic display.
---
The design – a whole new approach
The new design concept integrates a big 3.7″ display into a small retrofittable device. The device is installed from the front of the panel. It is only marginally bigger than a standard 3.5″ (80mm) round instrument and thus can be easily installed into virtually any existing cockpit.
Display
The very bright display shows moving map navigation clearly arranged and bigger than most other systems do. In fact the screen size of Display M with 3.7″ is more than a third larger than conventional 3,5″/80mm round instruments that have displays typically in a range between 2.7″ and 3.0″. The display utilizes special anti-reflection technology making it perfectly readable in *any* lighting condition. Its readability is comparable to printed paper.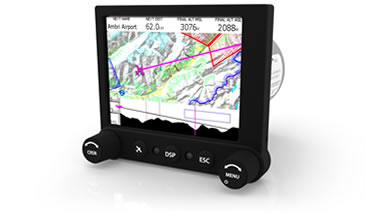 Moving Map Navigation at its Best
Display M features stunningly intuitive navigation functions. It is controlled by just two rotary knobs and three pushbuttons, yet has many amazing features, some of which are unique to panelmount navigation systems. The whole device is designed like a smartphone. Menus, functions, and user interface elements will seem naturally familiar to you. Anybody can easily learn how to use it – in just a few seconds of time.
---
Amazing Features
AIR Glide Display M contains many easy to use functions that support the pilot and reduce workload effectively.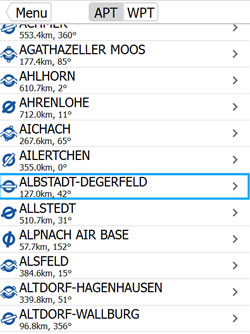 Navigation
Display M features a comprehensive worldwide navigation database with airports, airspace and landmark data, that is updated daily via www.openaip.net. Own waypoint, airport, and airspace data can be optionally imported.
Easy to use navigation features like the NEAREST or DIRECT TO function allow planning a flight-route in seconds. Navigation destinations can be selected from the map or in the menu seamlessly.
An accurate final glide computer calculates your glidepath based on wind, aircraft-polar, bugs, and current total-energy.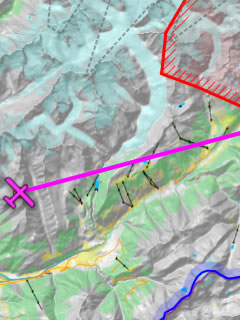 The Map
The map shows aeronautical data like airports and airspace plus a detailed topographical map with high resolution terrain data. The stunning map shows topographical features like for example mountains, rivers, or roads in amazing detail and clarity.
The map can be easily zoomed and fluidly moved, just like you'd expect from a modern device. It displays data in more detail when zooming closer, thus remains easy to read and interpret when being farther away.
Besides the normal Topographical map, standard aeronautical charts will be displayable as well (currently in development).
Traffic and Obstacle Avoidance
AIR Glide Display M communicates with FLARM® compatible devices that are connected to itself or to another AIR Glide display in the aircraft. Traffic information is shown directly on the map.
Display M features a built in Obstacle database and displays obstacles based on their relevance. Relevant obstacles, that are obstacles on the current flightpath are displayed in detail so that they can be avoided more effectively.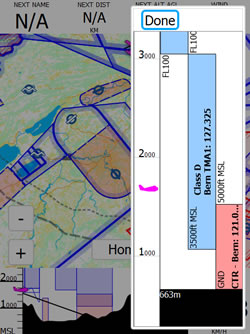 Airspace Avoidance
Display M is packed with airspace features that allow for easy identification and avoidance of airspace conflicts. The 3D airspace overview allows for quick and easy access to airspace information such as altitude limits and your relative position.
The clear airspace display with ICAO standard colors on the map and various sideview and airspace info boxes allows for effective airspace monitoring. With AIR Glide, pilots are capable of reacting long before potential infringements happen.
Task Engine and Optimization
AIR Glide Display M and L will feature well thought through optimization features for OLC, FAI and AAT. OLC and FAI tasks can be flown to optimal results. Assigned Area Tasks can be flown with high precision and perfect timing.
Task setup is easy and can be quickly performed by any kind of pilot. The smartphone-like usability allows even inexperienced pilots to set up and configure complex tasks in nearly no time.
We won't stop here
Display M and L are the first products based on a whole new codebase exclusively developed at AIR Avionics. Several years of hard work have created a flexible, extensible and easy to use platform that is used in AIR Glide and also in AIR Flight, our certified glass cockpit solution for powered aircraft. The software is developed with and based on aviation grade technologies resulting in unsurpassed reliability.
Many amazing functions are not yet communicated and are to be implemented over time during the products lifecycle.
---
AIR Glide Display M and L videos
Re-plan a route to circumnavigate an airspace