Our Traffic systems integrate perfectly into your aircraft.
AIR Traffic
AIR Traffic marks the heart of the traffic avoidance installation. Its flexible interface concept allows for a direct connection to many compatible indicators, third party navigation systems (including IFR certified panel-mount systems such as GARMIN GTN®), or even Apps.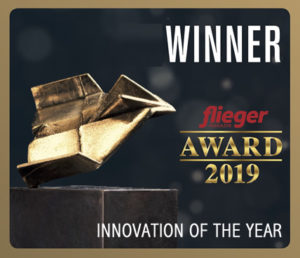 AIR Traffic processes and displays a large fraction of surrounding aircraft and drones, normally more than 80% of the manned traffic on weekend days in central Europe below FL100. It shows and is recognized by over 36,000 FLARM® users worldwide. AIR Traffic transmits and receives FLARM® data. Additionally, AIR Traffic receives ADS-B and Mode-S traffic data (It is only capable of computing the horizontal and vertical range of Mode-S traffic. The direction of Mode-S targets is not detected).
AIR Traffic integrates quickly into existing avionics ecosystems. Minor Change Approvals and EASA Standard Changes are available for many aircraft types simplifying the legal part of the installation process.
Better than ever, our new collision avoidance system: AIR Traffic
Our all new AIR Traffic marks the heart of the traffic avoidance installation. It is a collision avoidance system for hidden/remote installation. The system combines ADS-B and Transponder reception with a latest generation FLARM® transmitter and receiver (PowerFLARM with two FLARM antennas and antenna diversity).
It can be installed remotely, integrating into exisiting cockpits and sending traffic data to traffic displays, navigation systems or wirelessly to apps. As an option, it can be installed together with our AIR Traffic Display as a single, compact unit.

Traffic Technology
AIR Traffic receives the exact 3D-position of FLARM® and ADS-B Traffic as well as distance and relative altitude of Mode-S transponders. Additionally the own position is sent out to all FLARM® compatible systems – over 35.000 in use worldwide.
Simple configuration
Configuration of an AIR Traffic is as simple as using the internet – with any smartphone, tablet or PC. Simply connect to the WiFi® network AIR Traffic provides and open a website. Additionally it features advanced diagnostics functions that help testing and verifying its correct function.
Integrates seamlessly
AIR Traffic's flexible interface concept allows for direct integration into existing cockpits. It works with traffic indicators, navigation systems (including IFR certified panel mount systems such as GARMIN® GTN®), or even wirelessly with apps via an integrated WiFi® interface.
Professional IO
In addition to its data interfaces, AIR Traffic features an audio output for warning signals, discrete inputs for connection of panel- or air frame switches, and a special relay in/output for control of external devices such as anti collision lights.
Easy to install
We have sold thousands of traffic systems, and have listened closely to installers. AIR traffic features robust connectors, a smaller design, and better mounting options. It can even be combined with an AIR Traffic Display to a single, panel mount unit.
Certified installation
Minor Change Approvals are available for many aircraft types simplifying the legal part of the installation process. AIR Traffic has been qualified according to RTCA DO-160 for environmental conditions. It can be integrated into larger aircraft types and helicopters by maintenance organizations.
Receives more
AIR Traffic receives more targets than other systems. For example, it receives SIL=0 ADS-B targets, which are very common in Europe's lower airspace but not received by most american-made receivers.
Voice Warnings
AIR Traffic plays warning sounds using its audio output. Warnings can be set up to beeps or a voice output. Voice warnings help to reduce head-down-time and increase situational awareness by actively announcing threat traffic.
Night Flying
AIR Traffic Display features illuminated controls and an ambient light sensor that automatically adjusts the screen's brightness. For dazzle-free, crystal-clear display quality and perfect traffic awareness, if its day or night.
Traffic technology
Latest generation PowerFLARM radio technology with antenna diversity and increased range.
Works worldwide (region-based automatic frequency change)
High sensitivity ADS-B receiver for ADS-B IN (SIL=0-3)
Mode-S receiver
Warning Functions
Warns from traffic, obstacles, alert zones (obstacle database required at cost)
Audio output for warning sounds
Relay input/output for control of external components (like ACL)
GPS
Highly modern GPS receiver
Software configurable supply voltage for GPS antennas
Works with 3V, 5V active GPS antennas and splitters (0V)
Transmits GPS data to Mode-S transponders for ADS-B out
Compatibility
Independently configurable data interfaces: 3x RS-232, 1x ARINC 429, WiFi®
Data protocols: GARMIN TIS, FLARM NMEA, NMEA0183, GDL90, ASTERIX21, TCP/IP
Works with hundreds of different systems capable of displaying traffic.
Wireless functions
Transmits traffic and GPS data to aviation apps
System configuration via web browser
Diagnosis and analysis functions
Logs flight tracks for later analysis
Integrated range analysis for FLARM and ADS-B
Three status LED and comprehensive self tests
Antenna health monitoring and recognition (GPS)
Dimensions and Connectors
122mm x 61.5mm x 30.75mm
Weight: 180g
Connectors: D-SUB 26HD (Rear), D-SUB15HD (Front), SMA (FLARM A+B), rpSMA (ADS-B), QMA (GPS), USB
Static port pressure connector (optional)
Can be directly combined with AIR Traffic Display 57
Quality
All metal enclosure
DO-160 qualified for environmental conditions
Made in Germany
Produced in PART21 facility
Support
Backed by AIR Avionics' renown customer support via email and telephone
Repairs conducted in our PART145 certified repair center
Two year warranty