AIR Traffic Display – Enhance your traffic awareness
AIR Traffic Display is our newly designed premium display solution for traffic data. It features robust hardware, a sunlight readable display and advanced functionality reducing flightcrew workload and increasing traffic awareness. Air Traffic Display works well with many collision avoidance devices like TRX, FLARM®, or systems with GARMIN® TIS interface. Available in three different sizes. 57mm, 80mm and external display.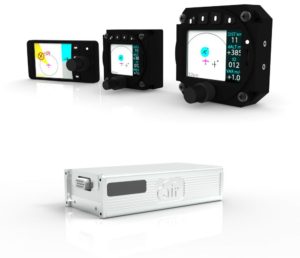 ---
The newly designed traffic indicator – From the inventors of the graphic FLARM®-Display.
With the "Butterfly Displays" we have introduced the first graphic FLARM® Displays back in 2007. We have used all of our experience and the results of current university research to design a truly new and powerful traffic indicator from scratch. AIR Traffic Display supports pilots and effectively enhances traffic awareness. Its unique user interface helps understanding traffic situations more precisely and its intuitive warning features provide reliable data for making well founded split-second decisions in hazardous traffic situations.
Works well with popular collision warning systems
There are many different collision warning systems on the market. AIR Traffic Display is compatible to many systems, even if they are older. It works with all FLARM® compatible systems, ADS-B-IN devices, and with systems that use the GARMIN® TIS protocol. Its standard design fits into 57mm (2.25″) panel cutouts. AIR Traffic Display comes with a standard cable and easily integrates into existing installations.
Robust, premium hardware
The new AIR Traffic Display is perfectly readable in bright sunlight yet it draws very little power. It can be used at day and night. The robust all-metal design has been developed and tested to comply with aviation standards.
---
New Functions
We have added a list of new and unique functions to increase safety. A new radar symbology helps differentiating gliders from powered aircraft. The new alert view helps to avoid misinterpretations in conflicting traffic situations. Traffic is also monitored after signal loss with a tracking of its probable position.
Better through research
Many functions of the new AIR Traffic Display have been developed as a result of current research projects at leading research facilities such as the Institute of Flight Systems and Automatic Control at the Technical University of Darmstadt.
---
Functions in Detail
Traffic Indication
Traffic is indicated in a "radar-style" screen. The range can be adjustet using a rotary knob from 500m to 32km radius. The own aircraft (magenta) and other received traffic are shown with aircraft symbols.
Advanced Symbology
Different types of traffic (powered aircraft, gliders, circling aircraft) are shown with different symbols. Very high or very low targets are smaller than targets in the same altitude as the own aircraft. Differential altitude is directly indicated on the symbol (little plus or minus sign) – helping to easily interpret the traffic situation.
New Alert View
The new alert screen has been designed as a result of current research. It helps reducing potential for misconceptions, especially in situations with high bank angles of the own aircraft. The screen is easy to interpret, even for crews who are unfamiliar to flying with traffic warning systems.
Head-On Alert View
Conflicting head-on traffic is displayed using a unique "horizon-style" indication that allows for quick and easy situation conception. The new indication has been developed in cooperation with research facilities, with the help of expert interviews and the help of surveys of several hundreds of pilots. It can help to reduce reaction time in confliciting situations.
Target Selection
Targets on the radar-view can be selected using a rotary knob. Pilots can actively select a target to review detailed target information such as vertical separation or distance. The integrated database delivers in-detail infos on targets such as registration or aircraft type. Targets of special interest can be marked in different colors for easier recognition.
Signal Loss
After losing the signal of a selected target, the target's last known position is continuously monitored and displayed with increasing vagueness. This helps keeping an eye on out-of-range-targets and estimating their probable position.
White on Black mode
The user interface can be switched to a dark mode. Especially when flying at night, the dark user interface helps avoiding distractions. Some users also prefer the dark user interface in daytime. Especially if other black displays are used in the same panel, AIR Traffic Display shows a familiar face.
Team Selection
Sometimes airspace is really crowded, so is the display. Finding special targets can take very long. AIR Traffic Display uses softkeys for fast and convenient selection of up to four special targets like teammates or friends.
---
Compatibilitiy
AIR Traffic Display is compatible to all FLARM® compatitle systems, many ADS-B-IN devices, and with systems that use the GARMIN® TIS protocol. It directly works with TRX-Devices, FLARM®-Devices, PowerFLARM®-Devixes, LX-FLARM® and many other units from different manufacturerers without configuration. Included with delivery is a standard-FLARM®-Cable (RJ45).
Installation
AIR Traffic Display can directly replace an old Butterfly Display or a different FLARM®-Display. It is covered by Minor Change Approvals for TRX-Devices or FLARM®-Comaptible Systems as well as EASA Standard Changes. It therefore can be installed into a broad range of aircraft without re-certification.
Technical Specifications
Energy
Input voltage range 9V to 32V DC, no additional regulators required
Power consumption typ. ca. 40mA at 12V, max. ca. 80mA (Alert Sounder Active)
No active cooling required
Display
TFT Display
Very high contrast ratio, perfectly readable in sunlight
Automatic ambient light adaption
Interfaces
RS232 NMEA (FLARM® Protocol)
RS232 GARMIN® TIS
ARINC 825 CAN Bus for future applications
Dimensions and Weight
Device (without rotary knob): 61,5 x 61,5 x 30 mm
57mm (2.25″) standard cutout
Weight ca. 140g
Functions
Display of 3D Traffic, e.g. FLARM® or ADS-B and 2D traffic e.g. Transponders (depends on connected traffic system)
Optical and aural traffic warnings (alert sounder integrated)
Optical and aural obstacle warnings (alert sounder integrated, depends on connected traffic system)
Target identification via FLARMNet Database. Updateable via microSD Card.
Tactical functions for gliderpilots (circling detection, climb-rate-filter)
Tracking of targets out of reception range
Software updates via microSD Card