TRX-1000 – Tiny, affordable ADS-B receiver
TRX-1000 is an ADS-B traffic receiver half the size of a credit-card. It receives traffic data and sends them to existing FLARM® installations or GARMIN® handheld GPS devices. TRX-1000 is easy to use, easy to install and amazingly affordable.
---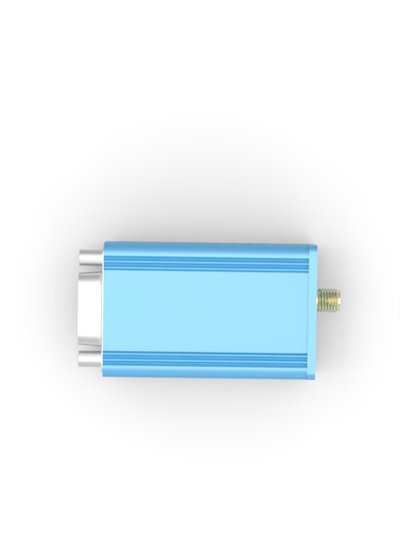 Easy to install
TRX-1000 is the smallest and lightest aircraft ADS-B receiver on the market. With an incredible system-weight of 42g it can be used in literally any aircraft. Our optional accessories make integration into existing installations a breeze.
Traffic Detection
TRX-1000 receives the exact 3D-position of ADS-B Traffic. With 8 simultaneously receivable targets and a range of 10NM TRX-1000 is perfectly usable even in fast aircraft.
Interfaces
TRX-1000 works out of the box with many common GARMIN® handheld GPS-Systems without any configuration required. It also is the ideal extension to existing FLARM® installations. With a TRX-1000 it is possible to easily add ADS-B traffic awareness to your current FLARM® compatible system.
---
Use ADS-B now!
To receive Transponder/ADS-B singals the TRX-1000 does not have to be connected to a Transponder. To send out ADS-B signals to other aircraft, in most cases all you need to do is to connect your existing Mode-S Transponder (just like our VT-series of transponders) to a GPS-System with NMEA data output. Contact us to learn more about how to upgrade your aircraft.

---
All advantages at a glance
Enhances existing FLARM® or Moving-Map installations to receive ADS-B traffic data
Extremely compact, lightweight and powerful
Very affordable. TRX exchange program for later exchange to other devices from the TRX product family.
Usable in FLARM® and GARMIN® handheld installations – also simultaneously
No configuration required
Minor Change Approvals for installation together with FLARM® Systems available for many aircraft

New: More installation options for TRX-Devices
A new EASA Minor Change Approval specifically issued for TRX devices is available. The new approval does no longer limit installation to VFR certified aircraft. Installation with connection to certified systems and the use of exterior antennas is now possible as well. Contact our team to find the perfect solution for your aircraft.
New: Enhanced Range
TRX devices now feature special amplifiers on the receive and transmit channel of their integrated FLARM system. This means more range and better detection of other traffic than with normal FLARM compatible systems.
Technical data
Dimensions
Dimensions: 66,5x33x16mm (LxWxH incl. antenna)
Weight: 0,042kg
Traffic Detection
ADS-B Receiver (3D)
Up to 8 targets
Energy
Input Voltage 5V to 32V DC
Supply current typically ca. 0,05A at 12V
Interfaces
RS232 NMEA for FLARM® compatible displays and moving-maps
RS232 GARMIN® TIS® for portable GARMIN moving-maps
E-mail from a customer.
Hi Paul
Just to let you know, I went to a fly in on Saturday, there were a decent number of ADS-B equipped aircraft in attendance, the TRX-1000 worked brilliantly, showing multiple targets on the Garmin GPS.
If you have anyone interested in one, who may wish to discuss it with someone who has one, feel free to pass on my details, I would not hesitate to recommend it.
Thanks,
Chris